TLC points = $$$ Register for The Love Club this month and you'll get 300 points added to your account so you can use that towards your next Love Wellness purchase! Already registered? Don't worry we have exciting things in store for you so keep showing your love here on TLC!
Keeping Your Gut Healthy and Happy During the Holidays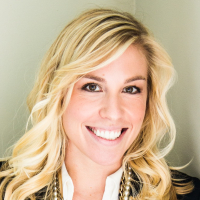 Dietitian_KB
Member, Medical Advisory Board
Posts: 38
✭✭
Tis the season for rich casseroles, decadent desserts and stretchy pants to accommodate ample portions.
But, does it have to be that way? What if instead we challenged ourselves to eight weeks of better energy, stable weight and smooth digestion, starting TODAY?
And no, you do not have to forego your favorite pie or stuffing recipe. It's simply about strategy and making the right choices consistently.
I have had hundreds of clients experience weight loss, better sleep, more energy and improved gut health in the midst of the holidays. I promise, you can do it too! It's not about "willpower" or "discipline" but instead, learning how to eat, what to eat, and when to eat.
Here are my three best tips to help elevate your health this holiday season:
Sub a Smoothie for a Sweet Snack
Out of all the questions my clients ask each week, this is the most common: "What do I do when I crave sweets?"
A nutrient dense, but flavor-rich shake of course!
I love the challenge of recreating my client's favorite dessert flavors in smoothie form.
Here are my top 3 fav favorites:
Pineapple Upside Down Cake
Your favorite vanilla protein powder (a scoop that equals 15g protein)
1 cup frozen cherries
½ cup frozen pineapple
2 TBSP full fat canned coconut milk
1 cup vanilla almond milk
Chocolate Covered Banana
Your favorite chocolate protein powder (a scoop that equals 15g protein)
1 TBSP almond butter
1 large frozen banana
1 teaspoon of cinnamon
8-10 oz chocolate almond milk
Almond Joy
Your favorite chocolate protein powder (a scoop that equals 15g protein)
1-2 TBSP shredded coconut flakes
1 large frozen banana
1 cup coconut milk
Looking for more substitutions for your favorite sugar-laden treats? Check out my recent article on sweet swaps!
Arrive 50% Full
We've all been there. We restrict calories all day thinking that it justifies a food binge at that long awaited family party. However, the end result is typically disastrous and the long-term health effects go way beyond the stretchy waistband. Arriving at a party famished only leads to poor food choices and excess consumption of these foods.
The answer? Eat a small meal or snack that includes fat and protein BEFORE you arrive. Sure, you've probably heard this tip before and maybe even implemented the strategy but what did you eat? An apple? A few handfuls of crackers? A choice made entirely of carbohydrates such as these will not work well as a first line of defense. Instead, try pairing an apple with almond butter, your crackers with guacamole or dip a chicken breast in a few tablespoons of fresh hummus 1-2 hours before arriving to the party.
Digest, Then Rest
Although you may be busy mingling with family, try your best to leave a 1.5 -2 hour gap between your last bite of food and bed each night. This allows your body to completely digest your food before your body closes shop for the night. You will notice deeper sleep and less bloat. The best part? A restful night's sleep keeps hunger hormones in check, thus making it easier for you to make better food choices the next day.
At the end of the day, anything is possible if you put your mind to it. This time around, let's get ahead of the curve together and accomplish our health and wellness goals before we ring in the New Year.
Cheers to a healthy gut and a happy holiday!
With love,
Kylene